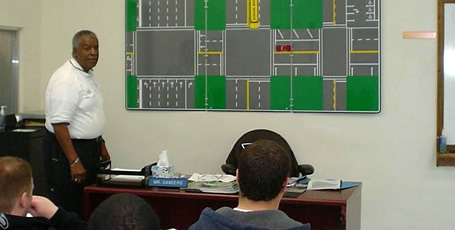 Driver Education
Nevada State law requires teens under 18 years of age to attend a 30-hour classroom instruction before being licensed. The teen must be at least 15 years of age to attend the class. A 4-day class is offered on the weekends throughout the year. The student must attend for two consecutive weekends (Saturdays and Sundays) to complete the course. The hours for the weekend classes are from 9:00 a.m. to 5:00 p.m. During the Summer, Spring-break and Winter-break, one 5-day course is offered. The course usually runs from Monday to Friday. The hours for this course are from 9:00 a.m. to 3:30 p.m. Check the classroom schedule for the listed dates.

Students may easily enroll online or over the phone (702) 892-0500 during normal business hours.

The driver education course is preferred to be taken first because it prepares the student for the Department of Motor Vehicles written test to obtain the learners permit.

A certificate of completion is issued after the student passes the final examination. This certificate is required when applying for the drivers license for those students under the age of 18 years of age.

The classes are held in our classroom located at 3455 S. Durango Drive, Suite 111, Las Vegas, Nevada 89117. The school is conveniently located on Durango between Spring Mountain and Desert Inn (1/2 block from Desert Breeze Park). There is plenty of parking near the school for drop-offs by parents. The school is centrally located near fast food restaurants for students who prefer to eat lunch between classes.
30 hour clssroom
Secure Online Enrollment
24/7 account access
Mobile Account Access